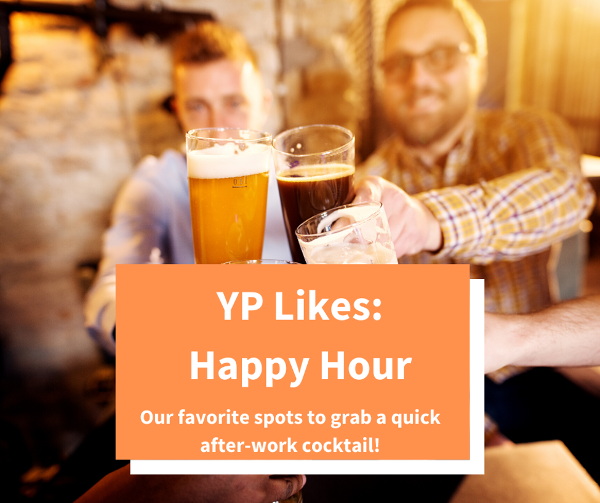 Whether you're a lifetime Lincolnite or a recent transplant into the local dining scene, every young professional can agree that there's no such thing as too many great new (or new to you) spots to grab a bite or meet a friend for a drink. Introducing YPG's new #YPLikes series, a compilation of recommendations for YP's, by YP's. We're crowdsourcing a variety of cuisines, locations, price points and best-on-the-menu tips, then compiling them on our blog for you to share and enjoy. Check them out and reply in the comments if you have a rec that didn't make the list! 
Up and coming: keep an eye out for #YPLikes best vegetarian restaurants, best farmers markets, best dive bars, best lunch on a budget and best group dining. Have an idea for a #YPLikes topic? Submit it here!
#YPLikes: Happy Hour
A great happy hour special is the guiding light that gets us all through the week. There's nothing like a cold drink with a coworker after a long day. Read on for YP's favorite local spots and deals.
Hiro 88 
Did someone say all day happy hour? You heard it right — Hiro 88 offers all day Happy Hour on Sundays at both of their Lincoln locations. Not only are the rolls half the regular price, but there are killer drink specials on domestic and imported beers, wine by the bottle (comes with a free crab Rangoon!), and cocktails, including martinis, bloody Marys AND mimosas. If you're not into the raw rolls, Hiro has a great selection of tempura fried rolls. Some of my favorites are the Hiro's Crunch Roll, Husker Roll and the Firecracker Roll. Feeling adventurous? Give the Wasabi Stinger a go – you won't be disappointed! Not quite ready for an adventure? Play it safe with the California, Las Vegas or West Coast rolls. Belly up to the bar, grab yourself a drink and eat all the sushi.
Venue
Does a long day at work have you screaming for a much needed cocktail? Have no fear, Venue's got you covered – $5 cocktails and glasses of wine, $3 well drinks and domestic bottled beer. I highly recommend pairing any drink with the General Tso's Brussel Sprouts. Trust me on this one, these brussel sprouts are to die for! You also can't go wrong with the shrimp cocktail, spinach and artichoke dip, or the house smoked salmon spread. The upscale vibe with happy hour prices will have you soaking up every last minute! Happy hour is 4-6 p.m. Monday-Saturday.
Eleanora
A great, quiet, funky place to go to happy hour. Attached to Sebastian's Table — you can still order small plates from the bar — Eleanora has a speakeasy vibe and a larger selection of drinks. Happy hour runs 3-6 every day but the best deal is their $2 Sangria Tuesday! The red and white are both amazing; neither are too dry or sweet and bring a lot of flavor. You can also get a pitcher for $8 so you might as well sample both and share with friends. 
Copper Kettle
Copper Kettle is equal parts amazing ambiance and delicious drinks. Located on O St. in downtown Lincoln, this craft Moscow mule bar is the perfect spot to meet coworkers for a tasty after-work drink. My top pics are the Texas Mule — made with Tito's vodka — and the Caramel Apple, if you're in the mood for something sweet. In addition to beer, wine and 30+ mule variations, Copper Kettle also has a small rotating menu that has never let me down. Check them out on Tuesdays for $2 tacos that will rock your world! Their picture-perfect charcuterie — great for sharing with a group — is $2 off on Thursdays. 
Momo's Pizzeria 
MoMo's Pizzeria is a Lincoln gem, with a menu boasting high quality, locally sourced ingredients and a relaxed, classy atmosphere. It's a great place to relax and enjoy conversation with friends, either at the bar or in the main dining room. Happy hour is 3-6 p.m. Monday-Friday with $1 off all beer, spirits and wine by the glass. You might have a hard time choosing what to choose - the drink menu is expansive - but the friendly staff is able to answer questions and give recommendations. I've enjoyed the Corpse Reviver (made with gin and absinthe - if that's not the cure for a long day, I don't know what is!) and the house made Amaretto. If wine is more your speed, check out the Wineemotion selections, which gives you the chance to try 3 ounce and 5 ounce glasses of wine that would typically be outside my price range. Of course, you'll need some appetizers to go along with drinks, and MoMo delivers there, too. My vegetarian favorites include the brussels sprouts (without bacon) and portabella mushroom fries. 
Blue Sushi Sake Grill
Your sushi fix, any day of the week, Blue Sushi offers happy hour from 3:00 – 6:30pm Monday through Saturday, 10:30pm – midnight Friday and Saturday and an all-day treat on Sundays. The busy place has something for just about every happy hour lover — appetizers, small meals, drinks — heading to Blue is your perfect excuse to go all out! Discounts on your favorites and a chance to try something new? That's a win-win in our books. Happy hour fills up quickly, so if you are looking to go, be sure to show up early or risk missing out!
Whole Foods
Did you know that you can purchase a single bottle of beer and drink it while you grocery shop? When you first think of Whole Foods, happy hour is not likely to come to mind. However, if you're on the search for $1 beers or $2 glasses of wine, this is your place. Every Thursday starting at 4 pm, the store has select beers and bottles of wine available for happy hour. If you work or live near East Lincoln suggest to your friends that you hit up Whole Foods instead of downtown for a change. During select happy hours, the store might even surprise you and have appetizers available for purchase.